How to Manage Pages
You can easily manage the pages on your website using the "Pages" tab on the top of the site editor. This tab allows you to Add, Rearrange, Delete or Hide Pages on the navigation bar of your website. Here, you can also enter the SEO meta tags for each individual page of the site.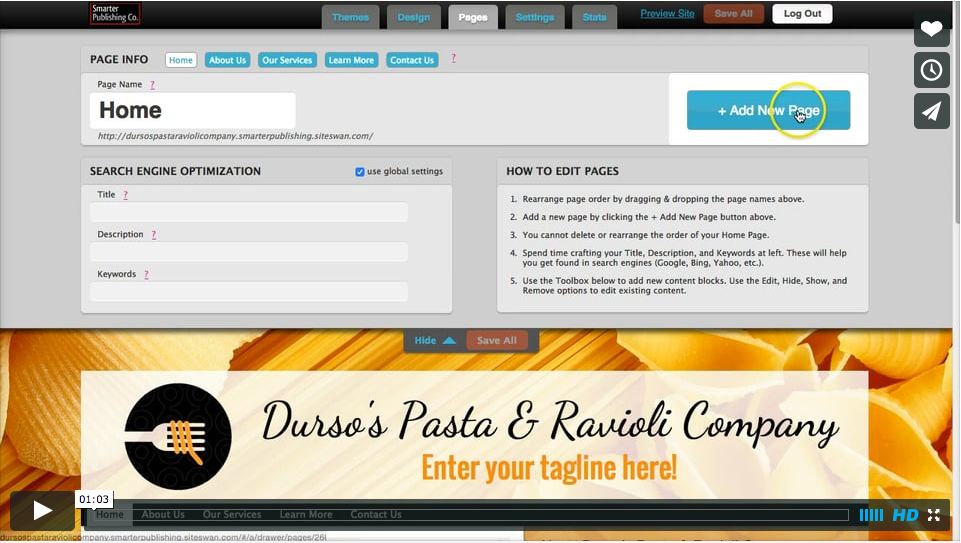 STEP 1
Log in and click on the "Pages" tab on the top of the site editor.


STEP 2
Add a new page by clicking the + Add New Page button.
Rearrange the page order by dragging & dropping the page names.
Delete a Page by selecting the page then clicking "Delete Page" next to the page name.
Hide a Page from the navigation bar by selecting the page and clicking "No" under "Show Page in Navigation".
Note: Once a page is deleted it cannot not be restored.
STEP 3
Click "Save" to save all changes.

Helpful Tips!

- Name pages with appropriate titles that clearly represent the content found on that page.
- If you're looking to add Drop Down Menus and Sub-pages, click here for instructions

- Avoid creating too many pages that can confuse or overwhelm site visitors.